Website Name: FreshTrends
Website URL: www.FreshTrends.com
Sells: Body Jewelry
Audience: Body piercing enthusiasts
Overall Rating:
---
As a follow up to my Body Candy Body Jewelry review I am now writing a FreshTrends Body Jewelry
review. Let's see how they compare!
FreshTrends sell some of the most gorgeously stylish jewelry I've seen. They have an amazing selection of high quality jewelry you can choose from. The number one place for people who consider themselves fashion followers or trend-setters.
What ever piercing you may have, FreshTrends have jewelry for it! If you have piercings, I strongly suggest you check them out.
The Most Stylish and Trendy Jewelry Selection
What makes FreshTrends such a recognisable company is the fact that their jewelry is always up to date with the latest trends. They are constantly introducing new stock!
If you like to jump on the latest fashion statements then FreshTrends would certainly be your website of choice.
FreshTrends sells body jewelry for all types of piercings in every style, shape, colour or material imaginable.
They also have a massive selection of plugs and tunnels for your stretched ears. This includes quality organic materials such as bone, horn and wood.
With this constant stream of new and innovative jewelry, even the most extravagant of individuals will be able to find something to tickle their fancy. Trend-setters will be in their element on this site!
Top Quality Jewelry
When I buy body jewelry online one of my biggest concerns is the quality of the materials.
I've had a few bad experiences with online-bought body jewelry. The steel jewelry I have bought from other sites tends to show it's wear really quickly. The materials will often fade in colour or snap. I've even had the misfortune to purchase body jewelry which arrived broken!
You'll be glad to hear that I haven't had any of these problems with FreshTrends so far.
I have been impressed with the titanium jewelry which is perfect for piercings, it doesn't cause any irritation or discolouring, this can be a massive problem for those who have sensitive skin. You can wear FreshTrend's jewelry all day with no discomfort what-so-ever!
I must also bring your attention to the gorgeous hand-made gold jewelry on this site. There's something very special about hand-made jewelry isn't there? So,if you cannot find your size on the website, you can just ask them and they will hand-craft it for you!
Do you get what you pay for?
For once, I am going to say yes, you do get what you pay for.
If you are buying titanium or steel jewelry you will not be disappointed at all.
All materials used are nickel free and meet the high expectations of the APP. The steel is either 316LVM or 316L Surgical Grade stainless steel, the titanium is G23 grade, the gold is 14K. Basically, all of the jewelry on this website really is top notch.
The handcrafted gold pieces are simply stunning. If you like your bling you should check out the handmade gold labret studs with diamonds. They are available in different types of gold such as yellow gold, white gold and rose gold (which is gorgeous and so unique!).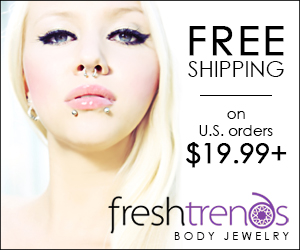 Saving your Money with FreshTrends
As someone who frequently buys body jewelry online, another thing I love about FreshTrends is how many ways you can save money on their site.
Some of the ways you can save your cash are:
If you are going to purchase your body jewelry online anyway, why not save yourself some money? You might as well!
Why pay the full price on your purchase when you can get Up to 90% Off Body Jewelry
?
Conclusion
So there you have it! All the basic information you need to help you decide whether you should buy from FreshTrends.
At the end of the day, I would say they have superior quality, better value for money, stylish hand crafted jewelry and a lot of ways to save your money. In my humble opinion it's a no brainer!
So, next time you are looking to purchase yourself some badass body jewelry – you know where to go.
Tell me about your experiences with buying from FreshTrends by leaving a comment below.